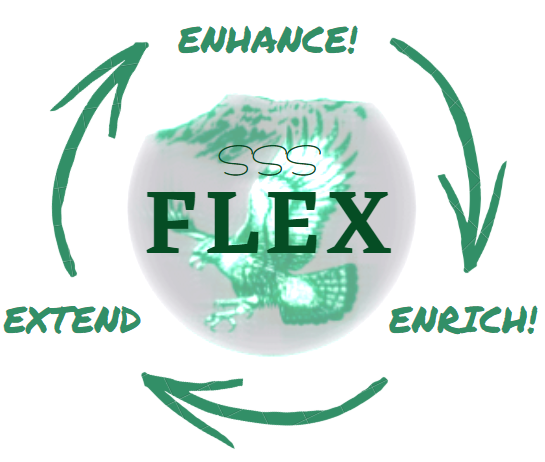 SSS FLEX BLOCK
ENHANCE ~ ENRICH ~ EXTEND
Due to the Global Pandemic the Schedule and Format of FLEX Education has been temporarily revised. See the 2020-2021 Bell Schedule here.
PURPOSE OF FLEX
Revisit concepts or re-learn needed skills

Time for make-up tests, projects, assignments

Extension activities to advance skills and abilities of those who already understand concepts being taught

Learn important life skills and prepare for future endeavors
 
STUDENT EXPECTATIONS 
Flex is a requirement, not an option

Students are able to complete the assignments in Microsoft Teams through a device but a desktop is recommended

Students should be engaged in each assignment or activity and submit each through Microsoft Teams by the appropriate deadline

If any questions or issues arise, students are expected to reach out to the FLEX Teacher, either through their Teams account or by email to keagan_munro@sd33.bc.ca
 
KEY TIMES FOR STUDENTS 
FLEX block is daily for the first 24 minutes of each day

Students must log into Microsoft Teams to access their appropriate FLEX Group by Grade. The assignments are now past due (December 30, 2021), but late submissions are still being accepted.
 
ASSESSMENT OF STUDENTS 
Assessment of FLEX has been modified for the present time. Students will be graded on the FLEX Assignments, as course selection is not currently an option due to students remaining in specific cohorts.
FLEX ASSIGNMENT INSTRUCTIONS
GRADE 9 INSTRUCTIONS
GRADE 10 INSTRUCTIONS
GRADE 11 INSTRUCTIONS
GRADE 12 INSTRUCTIONS
Your FLEX teacher the 2020-2021 school year is Mr. Munro. Please email any FLEX questions you have to:  keagan_munro@sd33.bc.ca