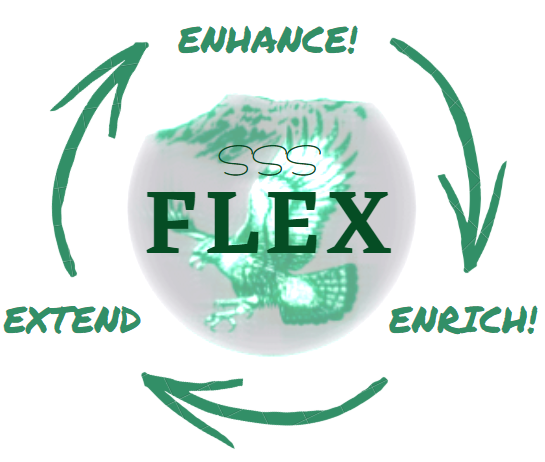 SSS FLEX BLOCK
ENHANCE ~ ENRICH ~ EXTEND
FLEX IS...
STUDENT CHOICE

TIME TO DIG DEEPER INTO A TOPIC OF INTEREST

STUDY TIME

EXTRA TIME TO FACILITATE UNDERSTANDING

TIME TO TRY SOMETHING NEW 
​Flex takes place on Thursdays from 9:38 to 10:40 am. See the Flex Bell Schedule here.
PURPOSE OF FLEX
Revisit concepts or re-learn needed skills

Time for make-up tests, projects, assignments

Extension activities to advance skills and abilities of those who already understand concepts being taught
STUDENT EXPECTATIONS
Flex is a requirement, not an option

You will be in class and participating, not wandering the halls

You should be engaged in the activity

You must attend the session you are assigned to or have chosen

Late/Absences are treated the same as regular classes. Attendance is mandatory

Take advantage of the wide variety of choices - This is an opportunity for you to have control over your learning
STUDENT SESSION POSSIBILITIES
Students sign up for one of his/her teacher's sessions

School wide offerings: Students also have the opportunity to sign up for sessions put on by any teacher in the school

Grade specific sessions: You may be assigned or asked to choose a session (grad meeting, course selections, DVR Verification)
KEY TIMES FOR STUDENTS
The Flex schedule for each Thursday will be posted to our website by Monday for preview

Students must make a their Flex selection on the sign-up sheet posted on each participating Teacher's door before each Flex session
ASSESSMENT OF STUDENTS 
Students will participate in Flex sessions throughout the year. A final grade will be awarded in term 4 based on the following:
70% for:
students making a weekly choice

attendance / participation in session
30% for:
Student assignments through Moodle (different for each grade)
SEE INSTRUCTIONS ON HOW TO ACCESS FLEX ASSIGNMENTS!
GRADE 9 INSTRUCTIONS
GRADE 10 INSTRUCTIONS
GRADE 11 INSTRUCTIONS
GRADE 12 INSTRUCTIONS
Note:
Students can log-in to their account and check their current grade for the choice / participation section at any time throughout the year

Each grade will have 3 assignments to complete before the end of the school year