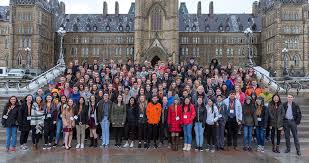 There are many enrichment programs available to students each year both nationally and in the local community. Some have a cost, while others are subsidized. Please see the links below for compete information on each program. Please contact the Career Advisor for more information on these programs.
Explore French-Language Program — Are you looking for a spring or summer program to learn French? Do you want to discover another region of Canada and meet new people? Go Explore! Explore is an intensive language-immersion program. You can take the program in the spring or summer, whichever you prefer. Participants in Explore receive funding that covers tuition fees for the programs, instructional materials, meals and accommodations, workshops, and other mandatory activities. Discover another region of Canada while learning French. Have an adventure and make new friends this spring or summer!
Rotary Youth Exchange - District 5050's Rotary clubs provide students with life changing experiences by both sponsoring local students who want to live and study overseas, and by hosting international students in our district
Shad - Shad Canada is a STEAM and entrepreneurship program for students in grade 10 and 11. Shad Canada's program attracts students with high aptitudes for risk taking, curiosity, excellence and resilience, and prepares them to take on social and economic challenges. The month-long program includes a real-world design challenge that asks students to work on issues such as food security, water management and waste.
Forum for Young Canadians - Would you like to contribute to the future of your community and your country? Are you interested in learning more about the decision-making process in Canada? Do you want to create meaningful relationships with others from across Canada who share ideas and passions similar to yours? If so, then Forum is for you! Take part in an incredible week that will change your life.
BC Youth Parliament - The British Columbia Youth Parliament is a youth service organization dedicated to fulfilling our motto of "Youth Serving Youth". Our organization spans almost a century, having its roots in our predecessor organization in 1924, the Older Boys Parliament. During the Winter break 97 youth ages 16 to 21 from across the province meet in the Legislative Buildings in Victoria. There we debate a variety of legislation that outlines projects that will be run throughout the year. In addition to this, Private Members Resolutions are introduced. These give members the ability to propose debate on issues close to our hearts and our communities, while still participating in a practical lesson on the parliamentary process.
Operation This is You!  was formed to develop and implement year-round projects and programs of lasting value towards inspiring female future leaders in STEM, and STEM-based fields such as Aviation, Aerospace, Marine and Defense.
Camp Ignite is a four-day camp that educates and inspires young women to follow their dreams. The camp is open to British Columbia girls in grades 11-12 (ages 16-18 ), and gives them an introduction to the world of firefighting. Aside from firefighting, each participant will learn about fitness, nutrition, health and teamwork.
BC Children's Hospital Mini Med School - At Mini Med School, you'll have the opportunity to learn about the newest discoveries and innovations in research, interact with world-class scientists and health professionals, and explore the diverse careers available in science and medicine.BC Children's Hospital Mini Med School - At Mini Med School, you'll have the opportunity to learn about the newest discoveries and innovations in research, interact with world-class scientists and health professionals, and explore the diverse careers available in science and medicine.
BC Children's Discovery Days in Health Sciences - Discovery Days in Health Sciences is a one-day event that give secondary school students and teachers the opportunity to explore a variety of career options in medicine and the health sciences. Organized by The Canadian Medical Hall of Fame and hosted by BC Children's Hospital, the day is comprised of a dynamic keynote lecture, hands-on workshops and a career panel discussion. Students gain a clear picture of what it would be like to be a health professional by interacting with researchers, clinicians and educators in their real-life work setting.
Adventures in Healthcare - The purpose of the ROTARY Adventures in Health Care program is to help those interested in exploring educational and career opportunities in healthcare. The in person program has been suspended until at least 2023.  
Minerva Learning to Lead Leadership - This is a three-day leadership program for Grade 11 girls. Participants gain confidence through a series of interactive workshops and activities. They leave the program with greater self-awareness, and the inspiration to take on new challenges and opportunities.
UBC Archimedes Talks - This is a speaker series aimed at talented high school students in Vancouver interested in mathematics and engineering. The goal is to provide promising students with opportunities to explore different aspects of math and applied science in an engaging environment. Once a month during the semester, students come to the University of British Columbia's main Vancouver Campus. Every session includes two expert speakers, a tour of an interesting location on campus, and lunch. Students must be nominated to participate. See Career advisor if interested.
University of Toronto Summer Law and Medicine Youth Programs - Step into the University of Toronto and explore the worlds of Law and/or medicine. The youth summer program was established in 2008 and every summer students from across North America and around the world are offered an exclusive glimpse into the world of Medicine and Law. Registration for application is open but first come first serve. High school students have the opportunity to sign up for weekly modules in either the Faculty of Law or the Faculty of Medicine.
Youth Leadership Challenge (YLC) - A day long competition, consisting of three core activities focused on building leadership skills. The event is open to all grade 11 and 12 students across BC, and each year, 16-24 youth are accepted for registration into the program.
The Vimy Pilgrimage Award - A fully funded week-long educational program in Belgium and France to study Canada's tremendous First World War contribution. The program is offered by the Vimy Foundation and features daily visits to important First World War sites including museums, cemeteries, and historic battlefields*. A total of 20 students will be selected for the 2021 program.
Beaverbrook Vimy Prize - A prestigious two-week-long learning experience during which exceptional youth, 15-17 years of age, study the interwoven First and Second World War history of Canada, Great Britain, and France. In Belgium and France, students will attend lectures, visit former battlefields, trenches and underground tunnels, as well as visit museums and cemeteries, and explore monuments such as the Canadian National Vimy Memorial.  Canadian, British, and French prize recipients will also participate in commemorative ceremonies and meet a few of the remaining veterans and members of the French Resistance.
Equal Voice National Campaign School - The online National Campaign School is designed to equip women with the skills, knowledge, and resources they need to run for political office in Canada. The school consists of 8 online sessions including a mix of group exercises, guest speakers, and networking opportunities. Each course is approximately an hour and a half (90 minutes) for a total of 12 hours of learning over 4 weeks. Participants will receive a comprehensive workbook to guide them through the courses and a certificate of participation upon completion. Cost: $249/person (including taxes) Bursaries available. 
Equal Voice Daughters of the Vote  338 delegates, representing every federal riding in Canada, are selected through an open call for applications to participate in a dynamic political leadership summit in Ottawa.